This story was written by the Houzz Sponsored Content team.
Customise your tank size, shape & colour, and see how it will look in your backyard on your phone – it's all possible!
If you want to reduce your water bills and minimise your home's environmental impact, installing a water tank in your backyard is one of the most important steps you can take. Choosing the right tank design is key; you'll want whatever you select to harvest water efficiently for years to come, cope with our tough climate, and suit the style, size and colour palette of your outdoor area.
Kingspan Water Tanks is a name you're likely to come across in your search for a quality tank. They have been helping Australian homeowners and businesses harvest and safely store rainwater in their premium-quality steel water tanks since 1934. You'll find them in every part of the Australian landscape, from farming heartlands and coastal areas to suburban and urban homes.
Kingspan Water Tanks offers a wide selection of tank styles, sizes and colours, including ones that can be customised to suit your backyard or outdoor area. They also have a range of innovative online tools that make designing and selecting your ideal tank easier (and more enjoyable) than ever.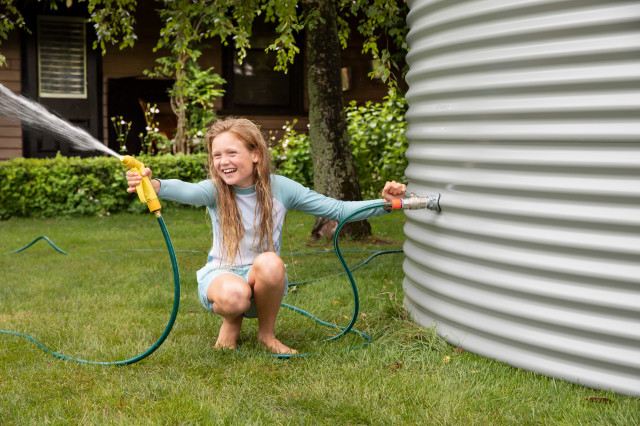 An Australian legacy
Kingspan Water & Energy, formerly known as Tankworks, was established nearly a century ago. Their brand Kingspan Water Tanks is Australia's leading manufacturer of steel water tanks to this day. The secret of their success? Designing durable, top-quality steel tanks that are specially made to endure Australia's tough climatic conditions.
With factories in NSW, Victoria, Queensland and Western Australia, their tanks are made locally and delivered straight to where they're needed – homes, farms and businesses right across Australia.
A passion for sustainability lies at the heart of everything they do. As a company, Kingspan Water Tanks supports ongoing water quality, forestation and carbon-neutral projects through a range of environmental strategies, including net-zero manufacturing and Planet Passionate 2030, a 10-year, group-wide global sustainability plan that aims to positively impact three major environmental issues: climate change, circularity and the protection of our natural world.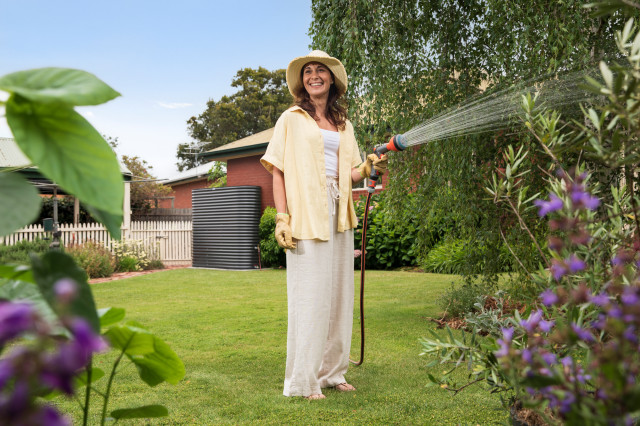 Benefits of installing a water tank
Australia is one of the driest continents on earth and suffers from regular droughts, so it makes sense to conserve every drop of water you can. Harvesting rainwater with a water tank is a positive step you can take for the environment, and it's good for your hip pocket too.
Start collecting rainwater and using it for chores around the house and garden, and you can slash your water bills. Stored rainfall can be used for a range of different functions, including toilet flushing, gardening, laundry and topping up your swimming pool.
With Kingspan Water Tanks, you can choose a model with an integrated water pump that makes it easy to water your garden and perform other outdoor tasks such as washing your car, boat or caravan – all without relying on mains water.
You'll be doing your bit for the earth too. By using a water tank, you'll reduce pressure on our dam supplies in the drier months, as well as damage to our creeks, rivers and oceans caused by heavy stormwater runoff.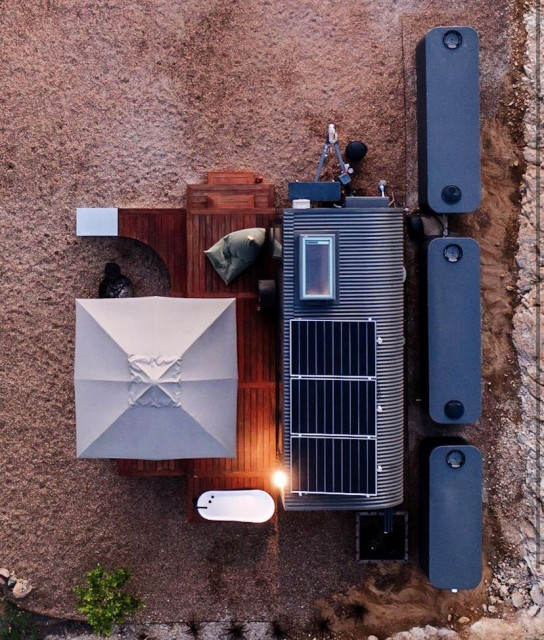 Why quality matters
Whatever you install in an Australian backyard or outdoor area needs to be tough enough to cope with our at-times brutal climate. Kingspan Water Tanks are made of heavy-duty Bluescope Aquaplate steel, so they are more than up to the challenges of whatever the weather throws at them.
If you live in a bushfire-prone area, a water supply should be available at all times to assist you and the local fire authority to protect your home or prevent a bushfire. Unlike plastic tanks, which melt in extreme heat, Kingspan Water Tanks are crafted from non-combustible, heavy-duty steel so you can access lifesaving water when you need it most.
And with a 10-year construction warranty and a 20-year warranty against corrosion, you'll have the peace of mind of knowing they will last the distance.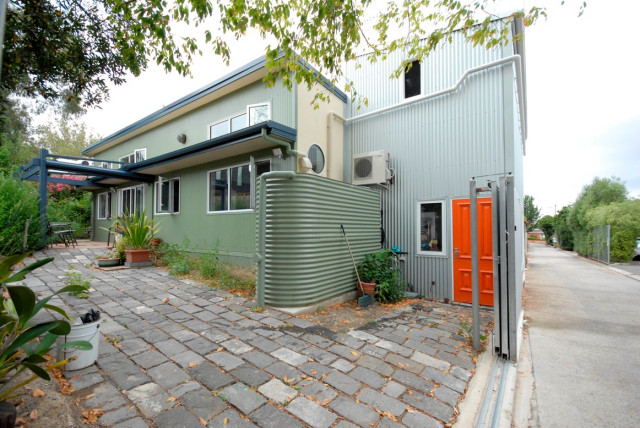 Custom-designed to fit
Worried that a water tank will look bulky and out of place in your backyard? Fear not: Kingspan Water Tanks' Urban range features sleek and discreet water tanks that are designed to blend seamlessly into even the most stylish backyard or outdoor area.
There are four tank shapes to choose from, each made-to-measure for your backyard for a perfect fit. They can be finished in galvanised steel or the full range of Colorbond colours so you can match your tank to your garden palette.
Compact and narrow outdoor areas are catered for too; their Slimline tanks measure just 550 millimetres wide, and you can choose styles as small as 1020 millimetres high and 1200 millimetres long with a 600-litre capacity.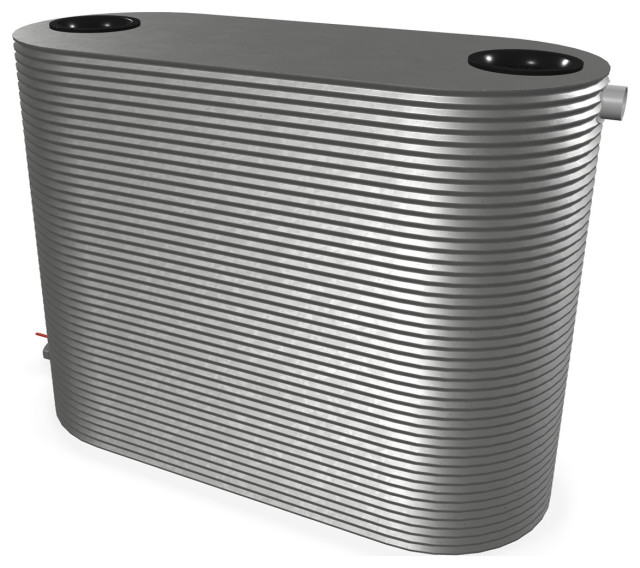 Build your own
All Kingspan Aquaplate Tanks are made-to-measure, which means your tank is individually built to your exact specifications.
Designing the perfect Urban tank for your backyard is easy with their 3D Water Tank Builder tool; simply specify the size, shape, colour and inlet and outlet position you want online. An easy-to-use tool will take you through the process step by step – you can even do it from the comfort of your sofa!
It will even tell you the output of your chosen design, down to the number of toilet flushes, hand-watering hours and washing machine loads your water tank can provide.
And there's no guessing how your tank will look once installed; use the AR (augmented reality) tool to see it come to life in your outdoor space on your smartphone.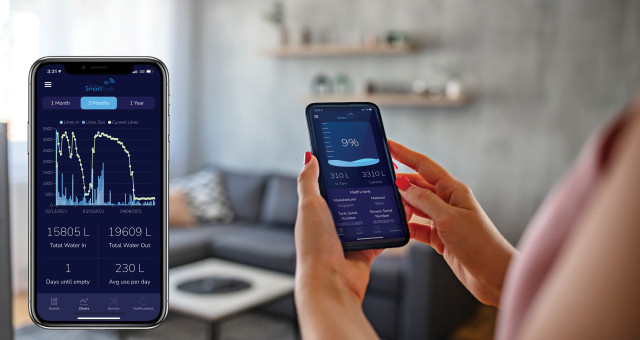 From there, you can upgrade your tank with useful accessories, such as an integrated water pump so you can easily perform all those outdoor chores using stored rainwater.
Or add a Smart Tank Sensor, which allows you to see how your tank is performing, how much water comes in and goes out of your tank, and exactly how much water is left, all via an app on your smartphone or tablet – perfect for planning those backyard weekend chores when you've got your feet up!