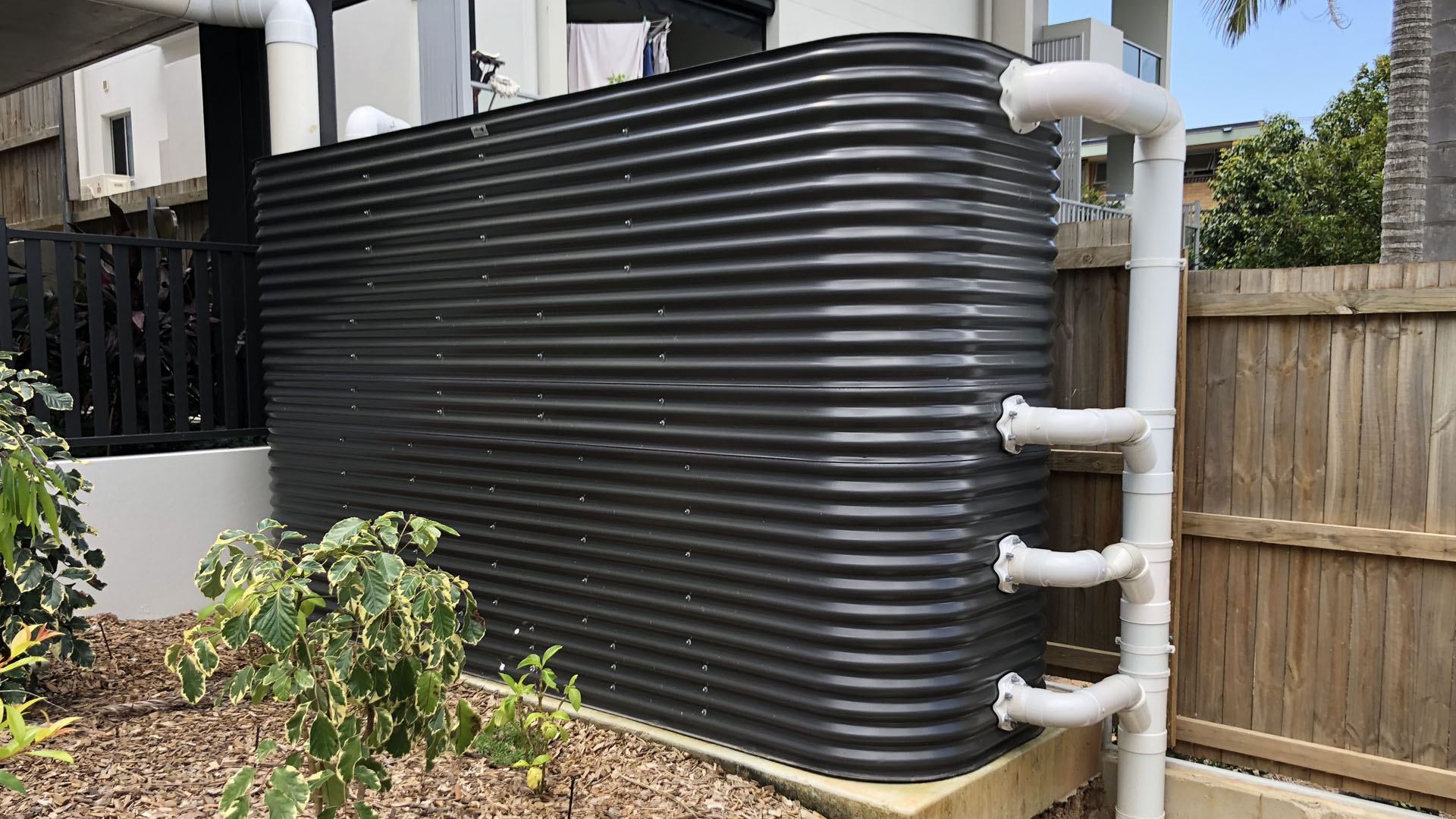 There's been a rush on rainwater tanks in south-east Queensland as El Nino sets in and Brisbane homeowners prepare for a hot, dry summer.
Mortgage broker Tony Chau and his family live on Moggill Road at Pinjarra Hills, one of the suburbs identified as high-risk for bushfires by the Brisbane City Council in July.
"It hasn't rained for a while, and everything is brown. Everything is dry," he said.
Chau has two water tanks: a 1000-litre tank for washing his car and watering his garden, and a 5000-litre tank used to refill his pool, clean his house and water the back garden.
He said he wanted to install another down the side of his house but was hesitating over the cost.
"I would definitely consider installing another one if a rebate was offered … Our water bills are definitely going up," he said.
Rebates from the Queensland government and councils helped encourage the addition of 90,000 rainwater tanks to south-east Queensland between 2005 and 2008, during the millennium drought.
The Brisbane City Council said the decisions to impose rebates were now decided by Seqwater and the state government. Neither had plans to reintroduce rebates.
Australia's new disaster management body, the National Emergency Management Agency, said steps to reintroduce rebates to encourage additional rainwater tanks were issues for state and local councils.
NEMA deputy co-ordinator general Andrew Chandler was asked on ABC Radio on Tuesday morning if it made sense to boost rainwater tanks in rural residential areas close to Brisbane's CBD.
"I think the key thing to do is to make sure that people are well prepared," Chandler said.
"If that is something that happens through their local councils or through the Queensland government, that is something your listeners would need to engage with through those channels."
Scenic Rim mayor Greg Christensen said they were considering requiring new dwellings outside mains water supplies having 60,000 litre water tanks, rather than the 40,000 litre tanks at present.
"We think a lot of people are losing the skills of water resilience," Christensen said.
"That would be rainwater storage that they would catch off the roof, providing an extra buffer."
He said he was aware of developers considering new rainwater harvesting ideas in some new estates, which included 30-centimetre wide rainwater tanks connected as "fences" at future estates.
Even without incentive schemes, however, rainwater tank companies said they had seen a spike in sales.
Kingspan Tanks technical and sustainability expert Michael Smit said the Yatala-based firm was selling 70 rainwater tanks a week, and sales had accelerated.
"We are running 10 to 20 per cent more sales than we were last September, so we are definitely seeing an increase," Smit said.
"People are more environmentally aware, including the builders. They are more conscious of the benefits of rainwater tanks."
Smit said south-east Queensland's high water charges were driving tank sales.
Brisbane's 2023 average residential water bill in Brisbane for a household with two adults and a child using 160 kilolitres of water was $391 per quarter or $1567, according to plumbers.
Ormeau's Taylex Tanks also reported a 40 per cent growth in sales of their in-ground rainwater tanks, driven by south-east Queensland customers.
"The peak in rainwater tank sales we are seeing now is greater than any other peak we have seen in the past," chief executive Tim Young said.
Read the original article which was published on Brisbane Times on 25/09/2023