This story was written by the Houzz Sponsored Content team.
The owners of this isolated cabin wanted an off-grid lifestyle & supreme style – and Kingspan Water Tanks made it happen.
Venus Bay is a beautiful and remote spot on coastal Victoria – an idyllic place to get away from it all. When a family of four decided to build a holiday cabin here, they turned to Base Cabins and architects Fowler and Ward to create a hardwearing and practical design that would complement the incredible landscape. Given the lack of services in the area, the cabin had to be completely self-sufficient. Water tanks, which allow the family to safely store their drinking water, were crucial to the success of the project.
Read on to discover more about this small but spectacular cabin, and how water tanks from Kingspan Water Tanks delivered both the looks and functionality the owners were after.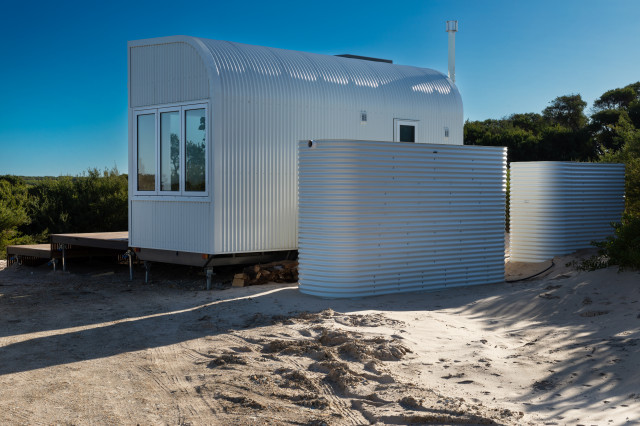 A cabin far from it all
Venus Bay is a small coastal community in Victoria's West Gippsland, around two hours' drive south of Melbourne. With no connection to water or electricity, any dwelling here has to be entirely self-sufficient.
Given the cabin's remote location and complete lack of services, providing the family with reliable drinking-water storage was essential. For this, the designers turned to trusted brand Kingspan Water Tanks, makers of premium-quality steel water tanks that are specially designed to withstand Australia's tough climatic conditions.
The designers selected two Kingspan Modline water tanks with a combined water capacity of 15,000 litres. For the colour and finish, they chose Colorbond Surfmist, a warm white that complements the cabin's exterior cladding and the surrounding sand dunes and limestone.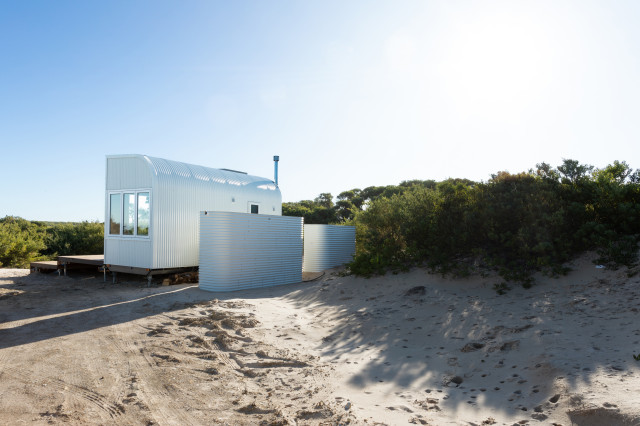 "The clients and site requirements called for a sleek, clean and, most importantly, tough water tank solution, given the home's exposed coastal environment. The Kingspan tanks meet all of these requirements and, like the tiny house, are easily relocatable should it be required in the future," says Ryan McCormack, director of Base Cabin.
The cabin itself is designed to sit gently within its ecologically rich setting. "The property adjoins the coastal reserve, which is home to an array of indigenous wildlife and flora. To ensure minimal disturbance to the ecology, we were engaged to deliver a tiny house capable of accommodating a family of four, that was completely off-grid and delivered a series of modular decks that wouldn't require foundations," says McCormack.
The result is a stunning, two-level tiny house with double bunks, a loft bedroom, a bathroom and double-height living area, with bi-fold doors and windows that connect the interior to a spacious, multi-level deck.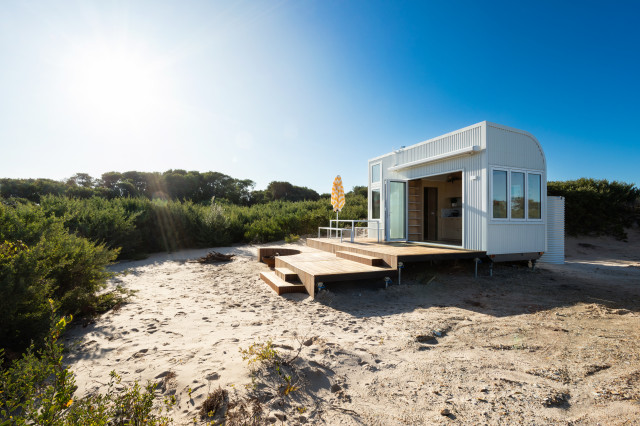 Ideal for tough conditions
Any fixture left exposed to the elements in Australia needs to be able to cope with our at-times brutal climatic conditions. Kingspan water tanks are made from heavy-duty Bluescope Aquaplate steel and come with a 10-year construction warranty and a 20-year warranty against corrosion, so you know they'll last. And unlike plastic tanks, they won't melt in extreme heat, so they're safe to use in bushfire-prone areas.
The tanks are ideal for an off-grid lifestyle such as this one at Venus Bay, allowing the homeowners to store their essential drinking water in a manner that is safe, stylish and convenient.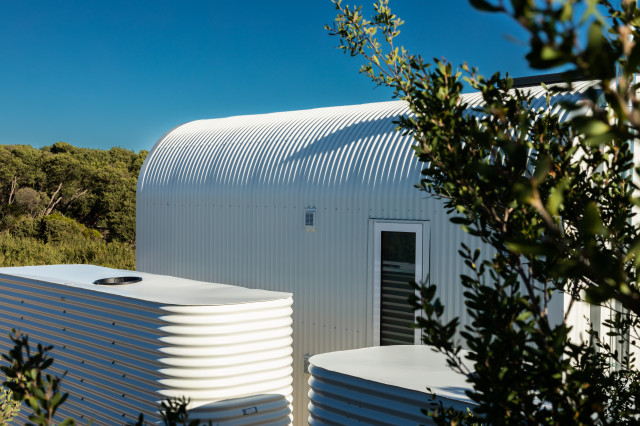 But you don't have to live in a remote part of Australia with ample space to enjoy the benefits of a water tank – whether you live in the city, the suburbs or on the coast, you can use stored rainwater for a variety of purposes, including toilet flushing, gardening, laundry and topping up your swimming pool, which can cut your water bills significantly.
"Base Cabin and our clients have worked with Kingspan on a number of projects and their Modline tanks are the perfect solution for anyone seeking a tough, high-quality tank that looks good and seamlessly integrates into almost any project. The Kingspan team are always a pleasure to deal with and are always keen to work with us on even the most challenging projects," says McCormack.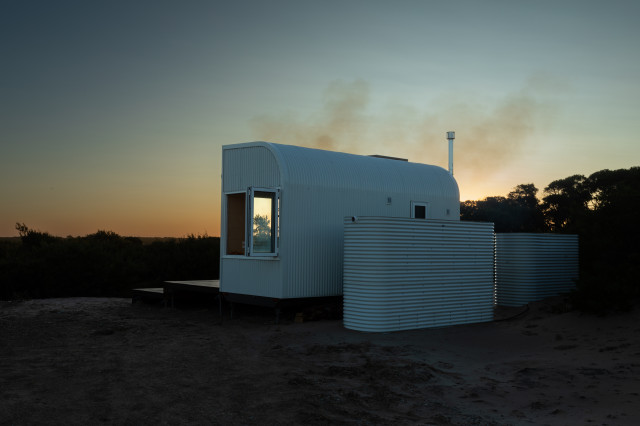 Customised style
Kingspan water tanks come in four different styles and each one is made-to-measure so you can choose the exact size, shape and colour to suit your home's colour palette, and the layout and style of your backyard.
Even small or narrow urban courtyards and outdoor areas are catered to – Kingspan Slimline tanks are just 550 millimetres wide, with styles as small as 1020 millimetres high and 1200 millimetres long, while providing a generous 600-litre capacity.
And all Kingspan water tanks can be finished in galvanised steel or the full range of Colorbond colours so they blend seamlessly into the background of your backyard or outdoor space.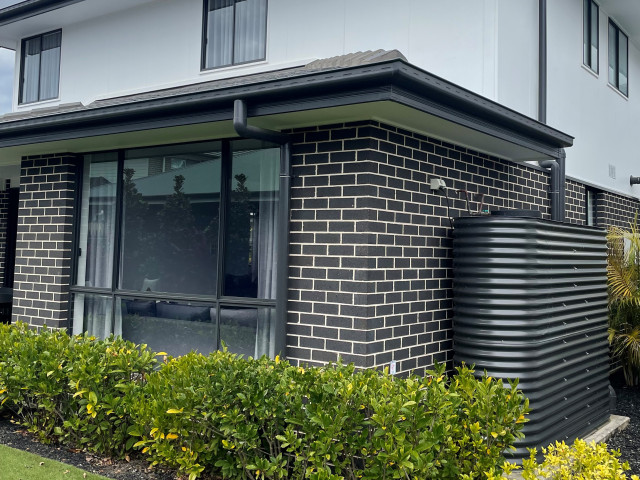 Ready for anything
As a result of the clever design and product choices by Base Cabin and Fowler and Ward, the Venus Bay cabin is now fully self-sufficient, water-efficient and built to last – even if the weather gives it a battering.
Choosing high-quality and hardwearing products and finishes, such as Kingspan water tanks, means the owners don't have to worry about time-consuming maintenance and upkeep when they come to stay at the cabin. Instead, when they're here, they can simply focus on enjoying the incredible location and creating memories the family will treasure.
Designed just for you
With Kingspan Water Tank's 3D Water Tank Builder tool, you can tailor the perfect water tank size, shape and colour to suit your water-storage needs and backyard style. And it couldn't be simpler to do; an easy-to-use tool takes you through the process step by step. It will even tell you the output of your chosen design, for example, the number of washing-machine loads or toilet flushes the tank can provide.
You can then use the AR (augmented reality) tool to see on your smartphone or tablet how your tank will look once it is installed in your outdoor area, giving you the freedom to try out different tank shapes and colours, as well as different installation locations in your backyard.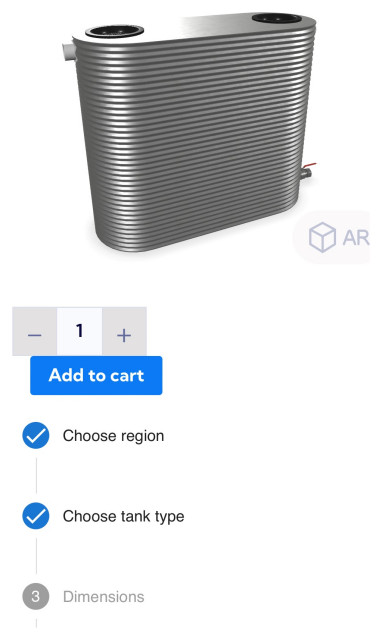 You also have the option to upgrade your tank with useful accessories, such as an integrated water pump so you can easily perform all those outdoor chores, such as washing the car or watering the garden, using stored rainwater.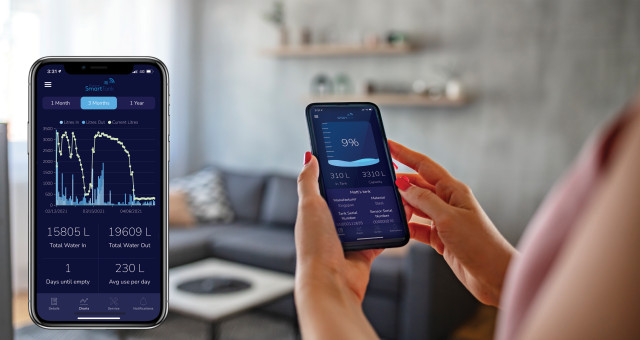 Or add a Smart Tank Sensor, which lets you see how your tank is performing, how much water comes in and out, and exactly how much is left in the tank, all on an app on your smartphone or tablet.
Reducing your water bills and doing your bit for the environment has never been more convenient!